Welcome to www.dermichi.com!

Hello, my name is Michael Weissenbacher! I currently work as systems engineer and i'm developing e-Business solutions. I have a master's degree in computer science which apparently shows that i'm very technical person. I hate forgetting things, but i do very often. So i created this site as reminder for me and as a journey through my work. This site is a collection of projects i've done so far. If you want to know more things about me then visit my Personal Information Page.

I maintain and run this server Just for Fun in my free time since the year 2000 and can still offer performance, uptime and availablity comparable to or better than commercial solutions. If you are a non-profit organisation, a band, a Michael Jackson fan, an unincorporated association or simply a private person interested in web space feel free to contact me per mail: "mw ät dermichi.com". I am sure we can find some kind of mutual arrangement.


Online projects
https://www.kaernten.at/
PIDPLATES
Gebrauchtmaschinenmarkt Agro-Webknecht
Singleplanet


Customers i did projects for (loose collection)
Kärntnermilch
Karnerta
Kärntner Messen
Mazda Rainer
Pro Mente Kärnten
Mountain Resort Feuerberg


Websites made and/or maintained by me
Austrian Michael Jackson Fan Club
Juvenale 2009
Michael Jackson's House
Film & Videoklub Villach
DIS Film


University of Klagenfurt - where i studied informatics (in German)


Other sites hosted here
ASKÖ Basketballclub Villach
Fotoeck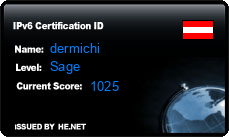 Mozilla Firefox
- the best web browser
My Public PGP Key